Ken Guthrie
Chair, IEA Solar Heating and Cooling Programme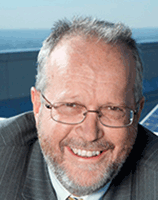 Welcome to SHC 2015
Welcome to the 4th International Conference on Solar Heating and Cooling for Buildings and Industry. On behalf of the IEA Solar Heating and Cooling Programme, I look forward to meeting, discussing and learning with you over the three days.
This year's conference is taking place in Europe's leading country for solar thermal applications –second only to China in the world market. SHC 2015 will continue our strong cooperation between research and industry that has been the hallmark of all our conferences in this series.
The global solar thermal market is diverse, and we can observe different market trends across the world. The global trend continues to be positive despite some difficult markets. There has been dynamic market development between 2000 and 2012 with annual sales increasing more than seven fold over that period in our Member countries. The backbone of the market continues to be small-scale solar water heaters for residential hot water supply. However, the application of large-scale systems for industrial processes and district heating is increasingly being deployed to meet other heat needs.
Since 1977, the IEA Solar Heating & Cooling Programme has worked on collaborative research projects to expand the use of solar energy for heating and cooling. This worldwide network of 20 countries and 5 international organizations has completed more than 40 research and dissemination projects. The current 10 research projects include over 300 participants, of which more than 25% are from industry. These add to the more than 2,000 researchers from all continents have contributed to our work over the past 35 years.
With ESTIF and GÜNDER, the IEA SHC Programme has strong partners for this year's conference.
And, by continuing our partnership with solar industry associations, the conference will once again serve as a platform to build understanding, collaboration and strong cooperation between research and industry.
I am sure that you and the other SHC 2015 participants will be inspired by the conference sessions and discussions as well as by the developments in Turkey and that you will go away ready to help to deploy solar thermal technologies as a significant contributor to a clean energy future based on renewable energies.
I am looking forward to meeting you in Istanbul.
Ken Guthrie
Chair, IEA Solar Heating and Cooling Programme